The Asterid 1100 takes our base model and adds a Smart controller LCD graphics display with SD card reader, it replaces the power resistor in the hot end with a heater cartridge and it adds a PCB heated bed. The Smart controller LCD display allows the user to control and print from the 3D printer without the need of a computer tethered to the printer (a computer is still needed to slice models into G-code). The heater cartridge heats up faster than the power resistor and in turn will regain heat lost more quickly. A heated bed helps reduce ABS warpage by keeping the model at or above the heat deflection temperature. A heated bed also assists in adhering the part to the build surface. In addition to the Smart controller, the heater cartridge and heated bed the Asterid 1100 also upgrades the print surface to borosilicate glass which provides a ultra flat build surface that has a very low thermal expansion coefficient. A flat print surface helps achieve world class results from a 3D printer due to the fact that the first layer is completely uniform. With three resolution settings (extra fine, fine and course) and a whopping 512 cubic inch build volume, our Asterid 1100 desktop 3D printer is the simplest, fastest and most cost effective tool available for making quality 3D models.
Standard Features:
• Build volume 8" x 8" x 8"
• LCD Smart Controller with SD card reader for computer-free 3D printer control
• Heater Cartridge hot end heating element
• Uses standard 1.75mm NON-proprietary plastic filament (ABS or PLA recommended)
• Strong extruded aluminum and wood frame with built-in filament spool holder
• Fully assembled & tested
• Heated Borosilicate glass build surface
• 240W power supply
• Open design (no outer cover or door provided)
• Z-axis ACME lead screws standard
• X and Y-axis utilize GT2 timing belts for high efficiency and low backlash

Software:
• Open-source software supplied on CD and downloadable from our website, please see our how-to guides on How to Install the software
All printers will ship with a software CD, but the software is also available to download via your internet connection.
• Fully configured Pronterface and Slic3r software which uses stereolithography (.STL) files as input
• We supply software for Windows computers, but open source software for the Mac & Linux is available
What's in the box?
• Plastic Scribbler Asterid Desktop 3D Printer, fully assembled & tested
• Software CD
• USB Cable
Tech Specs:
• Fused Filament Fabrication (FFF)
• Ramps v1.4 Motherboard
• Physical dimensions: 18.625" x 18.625" x 18.625" (L x W x H)
• Extruder moves in the vertical plane (Z-X), build platform moves in the horizonal plane (X-Y)
• Spring loaded geared extruder with .4mm nozzle
• ABS filament recommended, but extruding PLA or other thermoplastics is possible.
• Power supply works on both US voltage (115VAC) or European voltage (230VAC).
• .4mm nozzle diameter (replaceable nozzle)
• All metal hot-end
• Epocs NTC 100k 1% thermistor used on both hotend and HBP
Layer Height:
• 3 layer height settings: .3mm, .2mm, .1mm (other layer heights possible)
Warranty:
• Full 30 day money back guarantee. If you're unhappy with the purchase of your 3D printer for whatever reason, just return it for a full refund. All you pay is return shipping.

Visit our online store
More sample prints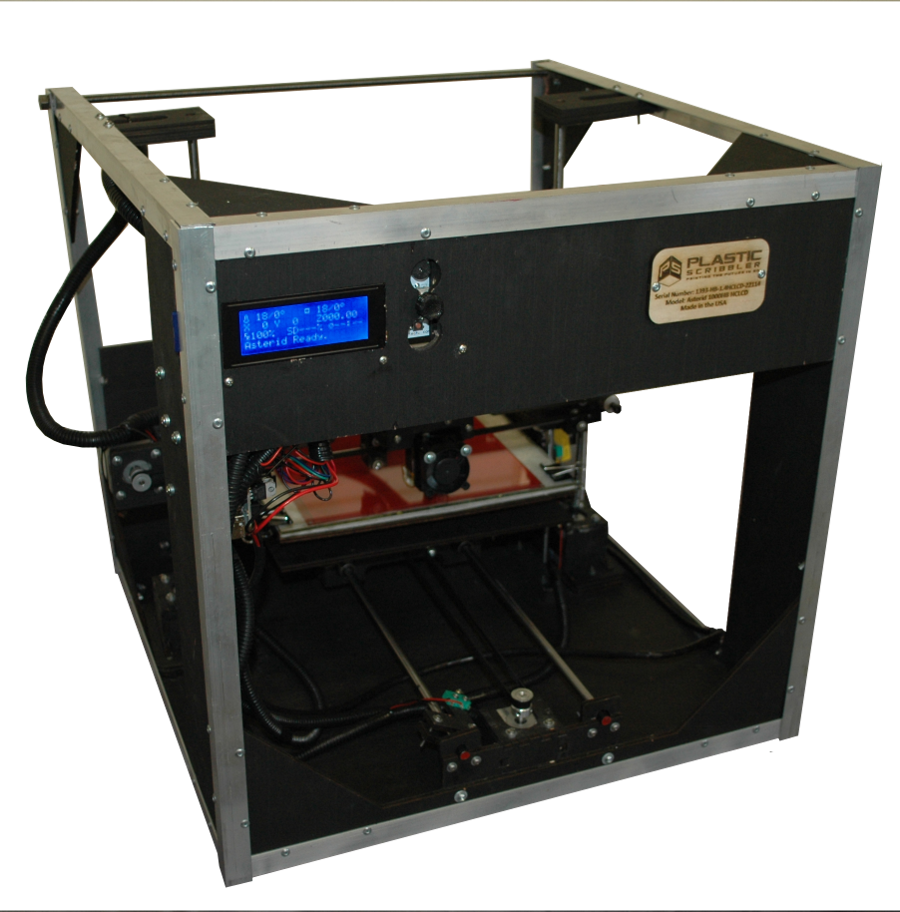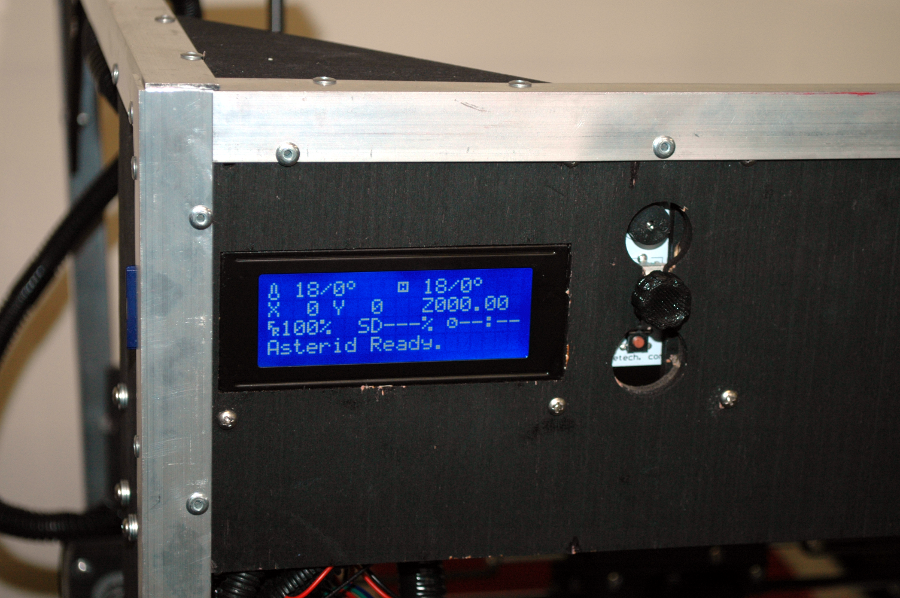 Visit our online store